Here is another puppet audio file for you to download.  These files are designed for you to download them and play them for your puppet show. All you have to be is excited and love the kids!!!  If you are excited about what you are doing the children will also be excited!!!
Exciting stories in the Bible (2173) A puppet learns that stories of the Bible are awesome.  He finds out the stories of the Bible are exciting and adventurous as well as true.  Stories about Samson, the parting of the red sea, a blind man is healed, the fiery furnace, Daniel and the Lion's Den, etc.  A lesson about going to Sunday School to learn about God.
A Story about Creation (2240)  The Creation Story Back 2 School – A lesson describing the seven days of creation.  One puppet tells the story as another puppet adds his description of what took place.
This is a rather long skit but is funny…  adults love this one.
Lead of God (1939)  Two pencil puppets discuss the excitement of going back to school.  One puppet finds out that he has the greatest friend with him daily.  He teaches that God dwells in us when we know him.  Forgiveness, Holy Ghost, and baptism are explained in this lesson.
Grab it in the audio download section of the site.
Got another one for download… I have several this week we will be posting.
B Ryan trys out... (1239)  Grandpa listens to B Ryan preach – Grandpa asks everyone to listen in and help him decide if this young man should preach on Sunday night.  B Ryan gives an example of his Bible knowledge.  This message leaves Grandpa speechless.   2 puppets –  Bro B Ryan & Grandpa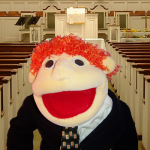 Go here to download
Just added six more puppet audio files for download – check out the download page for these files. Yes we still are having problems with the short codes for the downloads on the home page but they do work on the audio downloads page and also on the individual post itself. Don't forget to sign-up for our newsletter so you can be alerted to when we add more audio files. Don't worry we do not sell or spam your name… I try to keep my newsletters to a minimal unless I have some really big news!!!
I have some more audio files that I will be uploading soon so keep checking back. Got a little over track with the birth of our 2nd son a while back but we are getting going again.
Go here to download
1.  I am a friend of God (2495) Puppets are preparing to return to school. This lesson teaches about doing good unto others even though they do evil unto you. One puppet shares the gospel with a friend who wants to join the cool crowd and thinks that he is weird for being a Christian and doesn't want to hang around with him.
2.  For His Glory (1658) We learn that no matter how big or small we are, we are all important to God.
3. Spiritual Warfare (1395) Puppets discuss the spiritual battle that we face. We learn how to prepare ourselves for the battle. We learn that when we let Jesus into our heart we can be prepared to battle sin. The armor of God is explained in this lesson.
4.  Track Baptism-Let's go to the river (1115) 2 male puppets Billy Bob discusses the man at the River called Jesus who is walking on the water. He teaches that many received the gift of the Holy Ghost. Billy Bob wants to get the salvation and invites his friend Scotty to go with him to learn about the Baptism. Billy Bob explains that without baptism we cannot see the kingdom of heaven and we will not be able to see Jesus.
5.  Shepards on the Hillside (1390) 3-4 puppets – An angel appears to the shepherds and tells them that God will be sending a baby, his only son, to be the savior of the world. He tells them to go to Bethlehem and see this child and tell all the good news. This lesson teaches that we must go and spread the good news that the messiah has come.
6.  Bible Man Sings (1283) 1 Bible puppet Bible man sings "All I want for Christmas" and "Somebody snitched on me"
7.  Puppet Christmas (1659) 2 puppets 1 male puppet 1 female puppet Rudolph Kringle doesn't understand the meaning of Christmas and falls down every time someone says the word Christmas. He learns that being greedy is wrong and that if we are generous and share what we have with others we will be blessed. We learn that Jesus is God's gift to us. After an understanding Rudolph no longer gets weak kneed about Christmas.