On site Reporting (448)  News reporter brings the news update about good deeds throughout the town.  Puppets witness God's love first hand as testimonies are given.  Lesson on serving others with good deeds.
Obedience (591) Obedience- A puppet feels that she is the most important. She thinks that no one else is important. She learns that others are important as well. She finds that following the rules can save your life and save your soul. Scripture quote from Acts 2:38.
Little Puppet Book Report (681) Little Puppet Book Report – A puppet is worried about writing a book report for his return back to school and he hasn't read a book because of his attendance at VBS. He learns that he has read the best book, the Bible this summer.
Lead of God (1939)  Two pencil puppets discuss the excitement of going back to school.  One puppet finds out that he has the greatest friend with him daily.  He teaches that God dwells in us when we know him.  Forgiveness, Holy Ghost, and baptism are explained in this lesson.
Grab it in the audio download section of the site.
Got another one for download… I have several this week we will be posting.
B Ryan trys out... (1240)  Grandpa listens to B Ryan preach – Grandpa asks everyone to listen in and help him decide if this young man should preach on Sunday night.  B Ryan gives an example of his Bible knowledge.  This message leaves Grandpa speechless.   2 puppets –  Bro B Ryan & Grandpa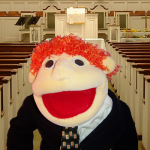 Go here to download