Grandpa explains about giving (2709 downloads)    Grandpa teaches his grand daughter about giving at Christmas time.  It is funny because Grandpa cant hear very well but he gives his great wisdom based on what he thinks he hears.   Grandpa is an ongoing series that we use and you should see more of grandpa in the audio download section of the site.  2 puppets –  1 grandpa and 1 girl puppet.
Words to the skit can be downloaded here
thanks
Got another one for download… I have several this week we will be posting.
B Ryan trys out... (1240 downloads)   Grandpa listens to B Ryan preach – Grandpa asks everyone to listen in and help him decide if this young man should preach on Sunday night.  B Ryan gives an example of his Bible knowledge.  This message leaves Grandpa speechless.   2 puppets –  Bro B Ryan & Grandpa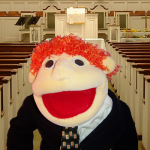 Go here to download