Got another one for download… I have several this week we will be posting.
B Ryan trys out... (1240 downloads)   Grandpa listens to B Ryan preach – Grandpa asks everyone to listen in and help him decide if this young man should preach on Sunday night.  B Ryan gives an example of his Bible knowledge.  This message leaves Grandpa speechless.   2 puppets –  Bro B Ryan & Grandpa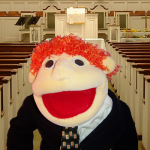 Go here to download
Hand operated characters will work well in their own little stage. You will need room to operate your tiny entertainers, without being seen. A stand may work. Many people use a curtain.  We build our stages from PVC pipe and curtains.   We have found that using snap-on buttons for the curtain allows for easier setting up and breaking down of the stage.  A simple snap and a pair of pliers will work wonders also. The snaps can be bought at any local hobby store.  Using hand operated puppets do give more life to your characters and using arm rods you can point, clap and act out with your character… it does take a little practice.   The more animated you are with your puppet the more the kids love it.  I once in just playing around put a puppet up in the window of the daycare office door and within minutes I had attracted over 35 kids to the door of the gym. They had stopped playing and begin migrating to the floor in front of where I was.  I did nothing more than act up and move around with the puppet.  Playing a simple game of hide and peek they loved it!!!!  For the next 15 minutes I entertained the kids and the daycare providers with one puppet in a doorway!!! Amazing!!!
You have to love the simplicity of it all!!!
That is correct, our Christian Comedy Konnection DVD volume 1 is free, the only thing you pay is shipping at 5.95. This is a 20.00 value for only 5.95.
From juggling to hillbillies to being wrapped in tissue paper, and yes, even how to convert a mannequin, Director James M. Dunn II and Eddie Sax bring you this exciting video for the Christian home. This non-stop hour of Christian Stand-Up Comedy will keep you laughing without losing your religion!
Preacher's kid Ryan Coffey tells about how being used in church can make you lose your coolness.
Singer, songwriter Sharron Kay King introduces you to the disruptive Guitar Granny ("Yes, you gotta wear the hat!")
Comedy Juggler Eddie Sax contends with being heckled by toddlers while he continues to toss a bowling ball 'heavenward.' ("Three clubs, two hands, one God…")
Pastor Jimmy Toney shares the opportunities that being in the ministry has afforded him to place his foot into his mouth.
Bonus footage included—"Who's in the Godhead"—a brilliant and hilarious parody of how Abbott & Costello might have explained this most controversial topic.
so order now while supplies last – if we run out we will duplicate more… still do not wait any longer to get this funny family DVD.  SOLD OUT!!!
We have recently moved to Cleveland, Tennessee and have been enjoying every minute of it.  The weather is definitely better than Indiana as we are enjoying almost 60 degree weather in January.  God is good!!  We are currently working on a couple of DVDs to be used in children ministry.  The DVD I hope to have finished by the end of February and along with them will be audio CDs that can be used when doing puppets.   Sign-up, login and let me know what it is you are looking for in regards to help in your area. What resources do you feel would help you greatly in reaching the children in your area…