Bro B-Ryan - Telling it how it is! (1662 downloads)   This script is with of course the crowd favorite and it is Bro B-Ryan and he is about telling it how it is!  From telling the husbands not to have strange breath to taking up an offering… over and over and over again…   We used it the other night and got tons of laughs from it.  Bro B-Ryan is a crowd pleaser and our favorite.   The Pastor's wife thinks he's funny and little Hanna Jo thinks he cute.
Look in the other audio files for more from Bro B-Ryan.
Thanks
Please like us on facebook!!!
Got another one for download… I have several this week we will be posting.
B Ryan trys out... (1240 downloads)   Grandpa listens to B Ryan preach – Grandpa asks everyone to listen in and help him decide if this young man should preach on Sunday night.  B Ryan gives an example of his Bible knowledge.  This message leaves Grandpa speechless.   2 puppets –  Bro B Ryan & Grandpa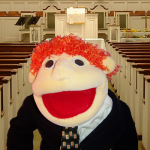 Go here to download